Capturing wildlife on lens
Deepa Mohan
At 25, Bangalore-based Kalyan Varma has vied with some of India's top wildlife photographers and within a year of taking up wildlife photography, he won the ABN Amro Wildlife Photographer of the Year award. His prize-winning picture is of worker ants attacking the queen ant. It was featured on the cover of the December 2005 issue of Sanctuary, the wildlife magazine. He also won two special mentions for two of the other three photographs that he had submitted.
Kalyan Varma is an IT professional who decided to quit from a successful IT company took a course for budding naturalists and was bitten for life by the wildlife bug. He now sees IT as a means of keeping up with his passion. At the age of 22, he won a Superstar Award in the dot com, and was one of 12 people worldwide to win the award that year.
From 2002 to 2004 Kalyan started going on trips to various wildlife reserves. He had very basic equipment camera-wise, but from taking abstract pictures and street shots, he tried his hand at wildlife photography. In October 2004 he quit his IT job. He had saved some money, and decided to take a break while he figured out what to do next.
He decided to take the naturalist course conducted by C R Sarath, the chief naturalist of Jungle Lodges and Resorts. After the course, he was offered the job of naturalist at the JLR resort at B R Hills in K Gudi. He was initially hesitant and finally agreed. At the same time he started his serious wildlife photography with a Rs 5,000 lens !
The flora and fauna of B R Hills cast their spell on him and the weeks stretched into months, as slowly his love for wildlife and their documentation took over his life. Realising that he had a rare opportunity of taking great photographs, he decided to invest about Rs one lakh in lenses - macro lens, wide-angle lens and a zoom lens.
"Good equipment really matters in wildlife photography", he says, " as you are likely to get excellent photographs even under adverse conditions." He also attributes success to his being a good naturalist - knowing the behaviour of animals would helps one to plan one's photography better. He also is strong on the necessity of "wildlife ethics." One has to walk a fine line between documentation and disturbance, he feels.
Soon the necessity of making enough money to support this passion forced him to decide to come back to the city. He started his own company, SecuPrise, with a partner, who is also a passionate photographer and had also made his money in IT startups. Now, Kalyan shuttles between Bangalore and the forests, as each mistress calls him with urgent demands. He posted his pictures on the web, and in a short time, he had thousands of visitors on his website, and to his blog (
http://kalyan.livejournal.com/
) - a huge fan following consisting of old and new friends, acquaintances and strangers.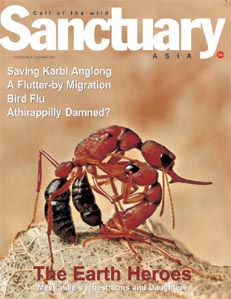 After winning the ABN Amro Wildlife Photographer of the Year award, Kalyan's ambition is now to enter the BBC Wildlife Photography competition. For him, the priority might be the animal being endangered. His present dream is to shoot the clouded leopard.
He also wants to educate others about the richness of wildlife in India by bringing his photographs to their drawing rooms. He wants to reach out to people who don't go to the jungles, and show them what's out there.
Story