Your job is at risk, if it's done over the wire: Nilekani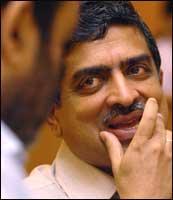 BS Bureau in Mumbai | October 15, 2005 17:21 IST


Y

our job is at risk if it's the type that can be done over a wire, says Nandan M Nilekani, CEO, President and Managing Director of Infosys Technologies.

Nilekani, in a interview published on the Web site of New York Times on Saturday, spoke about Infosys's success, and underlying secular trends like technology and demographics.
"You can't stop these things. They're all megatrends," Nilekani said. "If you go back to the 1830s, India and China were 50 per cent of the world's GDP (gross domestic product). Then they missed the entire revolution of industry. So, if you take a long view of this game, it's just part of the process. What's happening is pretty fundamental," Nilekani said.